February 24, 2021
The Martin Family: Early African-American History in Ames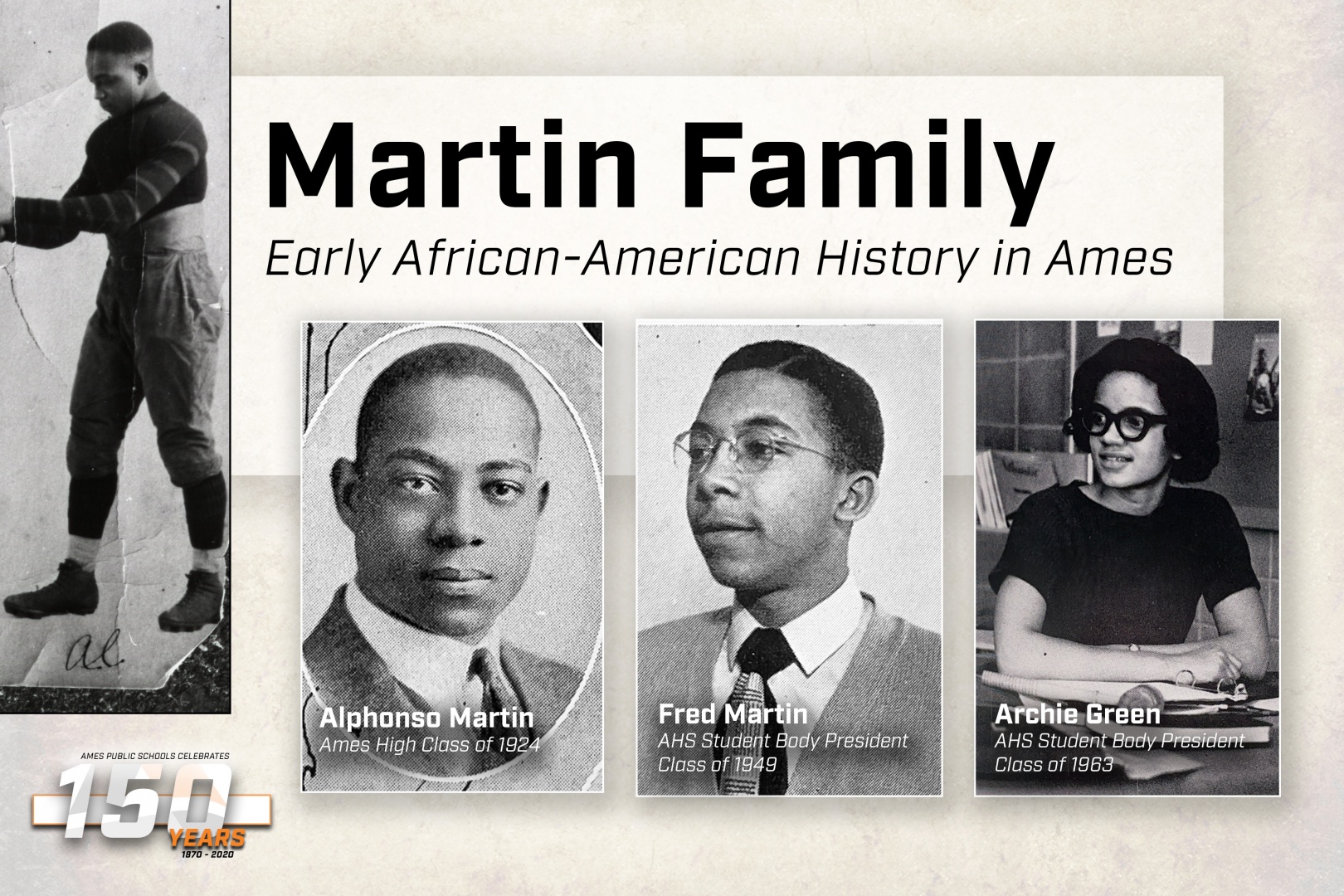 When Ames was established in 1864, many of its settlers arrived from the New England area, and according to famed Ames historian Farwell T. Brown, they were "abolitionists in sentiment." However, very few individuals had personal contact with black individuals. Brown said, "there seems to be no record of any African-American families in Ames until well after 1900."
When thinking about African-American history in Ames, many point to George Washington Carver and his ability to break the barrier to become the first black student to graduate from Iowa State in 1896. At the time, he was likely the only black person in Ames. We look to Jack Trice as the first black athlete at Iowa State and for whom the football stadium is named.
Between 1913 and 1916, three black families arrived to establish Ames as their home, one being the Martin family in 1913. Archie and Nancy Martin were born enslaved and raised seven children in the community. Their oldest, Alphonso Martin, was a standout athlete in both football and basketball at Ames High from 1920 to 1924. He was Vice President of his class in 1924 and as an all-state football player, was described as "an ideal football player, being able to pass, kick or run with the ball." In the Spirit yearbook, the class prophecy noted his artistic abilities as well: "his western scenes are quite the rage just now." Alphonso and his siblings had valuable educational experience from many accounts while in the Ames district, but it wasn't without racism and racial challenges.
In 1919, Archie and his sons built their home near the Kellogg Avenue and Lincoln Way intersection. The second floor had three bedrooms and a bathroom—suitable for boarding. Although George Washington Carver broke through and graduated from Iowa State in 1896, it was another decade (1904) before another black student graduated, and another decade after that for its third. In 1910, Iowa State President A.B. Storms stated, "Negro students are entirely welcome at this institution." Still, the reality was that it was the unofficial policy into the 1940s that Iowa State College restricted housing to students of color. They could attend class but could not live on campus.
There are many accounts that the Ames community was progressive at the time in their view of race-relations. Many black families were highly regarded in the community and Archie Martin, as a patriarch of the Ames black community, was instrumental in getting Iowa State to change its housing policies. For some, their experience growing up in Ames was the "reverse" of many African-Americans who grew up in other parts of the country.
There are accounts of a local white man arrested in 1920 for harassing a black girl and a downtown restaurant fined $100 in 1922 for not serving black people. But it is also a community that had 8,000 spectators attend a KKK rally in 1924 at Maxwell Park (now the Municipal Cemetery). According to the Ames History Museum, "After parading down Main Street, the Klan members gathered at Maxwell Park to perform rituals, including burning two crosses." More recently, in 1982, Ames High allowed a "slave auction" to be conducted during homecoming week, as documented in the Spirit yearbook.
The Martin family legacy continued at Ames High. Fred Martin, a grandson to Archie and Nancy, was president of his Ames High class of 1949. In the 1990s, he was a dentist in the Washington, D.C., area. Their great-granddaughter, Archie Greene, graduated from Ames High School in 1963, where she was also student body president. She was the third girl to be President at Ames High and received her doctoral degree from the University of Iowa in 1990.
Sources: Ames History Museum
"Ames in Word and Picture Book 1" by Farwell T. Brown
Iowa State University Diversity History Website
Ames High "Spirit" Yearbook Archives